Now that you have decided you want veneers, you may be wondering if getting veneers in Turkey is a good idea. Welcome to the chapter "Veneers in Turkey" where we try and cover all the info you need about coming to Turkey. Affordability is one of the biggest advantages of choosing veneers in Turkey. We say this because it is an expensive treatment in Europe, the USA, the UK, and other countries. 
Veneers in Turkey are among the most requested aesthetic dental treatments for patients coming from all over the world. The dental veneer treatment is an aesthetic treatment. It's for people who want to get a brand new smile. A bright smile with a perfect aesthetic appearance, and correct aesthetic problems like a crooked tooth without long treatments and invasive surgeries. Turkey and Istanbul offer patients very high-quality treatments, the best dental technology with highly qualified doctors, at an affordable price without long waiting lists.
We will go through now every detail of veneers in Turkey and your stay in Istanbul.
Why veneers in Turkey?
Since veneers are available everywhere in the world, the big question is "Why veneers in Turkey?". Certain factors make Turkey a lot more reasonable and worthwhile for veneers. Here is a list of reasons why Turkey is a great option for getting an expensive treatment like veneers:
High exchange rate
Qualified and well-trained doctors
A Strong medical tourism sector
Tourist friendly country
International standard dental products 
High Exchange Rate
Dentistry is expensive in most countries in the world, particularly cosmetic dentistry. Turkey is one of the top 5 countries most visited for dental procedures. It is also among the cheapest countries for dental work because of the high exchange rate. It makes treatments a lot more affordable for people who cannot afford expensive dental procedures.
Qualified and Well-trained Doctors
As per official stats, Turkey's dental sector may rise from approx 680 million USD to 704.7 million USD in 2023. Thousands of tourists flock to Turkey for dental treatments because of qualified and well-trained dentists.
Apart from 5 grueling years of study, they must pass government tests to specialize in a field. The exam is called (Diş hekimliği Uzmanlık Sınavı) that every dentist must pass to practice legally. Moreover, they must also go to foreign countries for internships and training to add to their portfolios.
Not abiding by these rules is ground for license cancellation by the Turkish Board of dentistry.
A strong medical tourism sector
Turkey's strong medical tourism is one of the factors that draws a huge influx of foreign patients every year. The government supports businesses to encourage the growth of the sector. Turkish governments in the recent past took many initiatives to boost medical tourism, such as VAT exemption. The deduction of value-added tax is a huge plus for foreigners that they won't find elsewhere.
Tourist friendly country
Turkey entertains millions of tourists each year due to its unique culture. Turkey is home to some of the world's most significant historical sites. Some of them are even among UNESCO's world heritage sites. Turkey caters to the needs of tourists at every step and makes sure their trip is a memorable one.
International standard dental products
There is a misconception that since the prices are low the quality of products would be bad in Turkey. That's not quite true because in Turkey you can find local products just as good as anything available abroad. You can find the most modern version of veneers including E-MAX, CEREC veneers, CAD/CAM porcelains, etc. Whatever it is you want to inquire about veneers, we are here to answer your queries.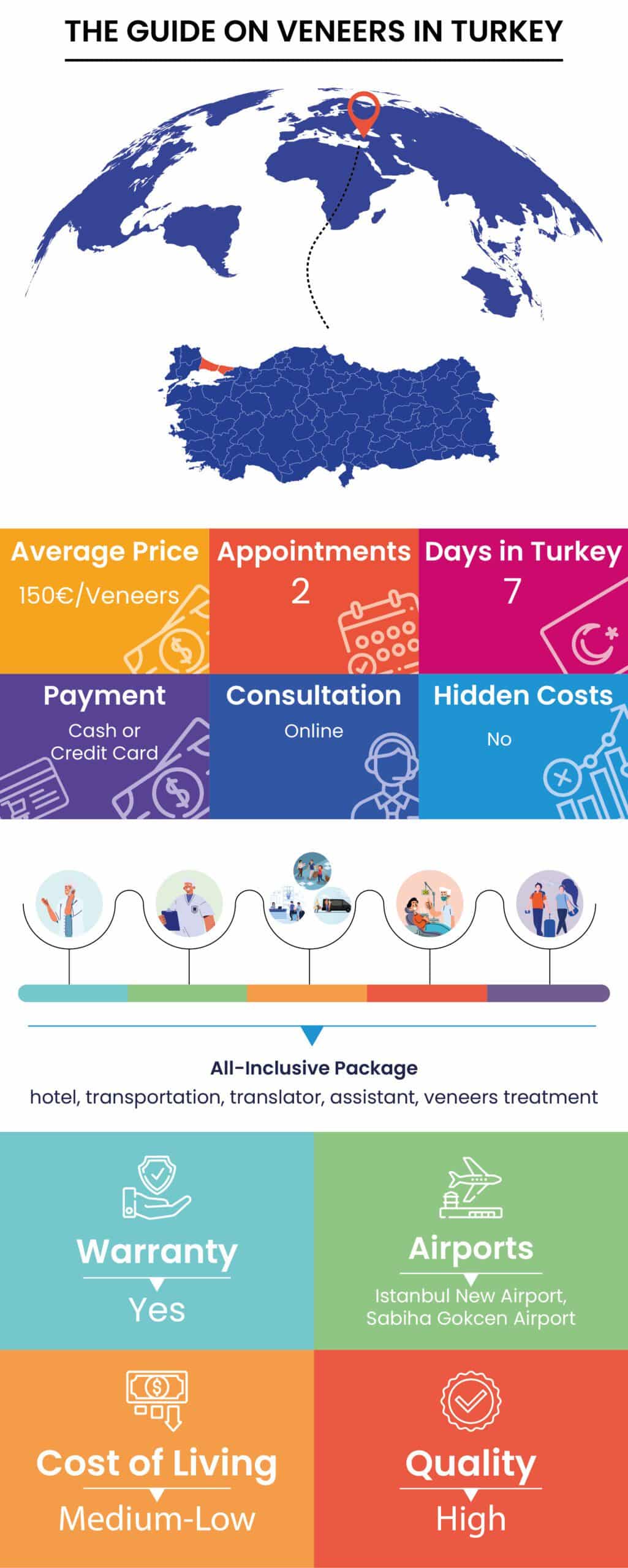 Why Do People Talk About "Turkey Veneers Gone Wrong"?
It seems that one of the most interesting and discussed topics when it comes to medical tourism, especially in Turkey, is the "danger" of going to Turkey for a medical procedure. European and American clinics speak extensively of these alleged risks, of potential plots of Turkish dentists to ruin the patient's health, and of "too cheap" prices surely hide something scary and dangerous.
The cost of living in Turkey is clearly forgotten when speaking about these matters. Medical tourism clinics, perceived as affordable for international patients, are not as cheap and affordable for Turkish people who do not have the great advantage of exchanging currencies such as euros, dollars, or pounds. They also forget to look at great patient results just to highlight one or two examples of negative results – often without proving or disclosing where these photos of results really come from.
Furthermore, these accusations against Turkish clinics hide a – not too veiled – racist prejudice towards non-European countries as unsafe, full of impostors, backward. For years, Turkey has been at the forefront of the medical sector with modern, clean, safe medical centers equipped with cutting-edge technologies.
So when you see some "Turkey veneers gone wrong" article think "who's really benefitting from these kinds of negative ideas?".
Is Istanbul safe?
Yes, visiting Istanbul is completely safe. There may have been political turmoils in the past but today Turkey is a completely safe country to visit. It is a secular nation where people are allowed to follow the religion of their choice.
For women as well, it is a completely safe country where you can walk and explore the city the way you want. Turkish authorities are always there to help in case of emergencies or problems.
In Istanbul, which is the biggest metropolitan city in Turkey, you can reach out to the Tourism police whenever you face any issues HERE.
What's the cost of veneers in Turkey?
Veneers are among the most popular cosmetic dental treatments in Turkey. Thousands of tourists come to Turkey to avail the opportunity of getting veneers at the most affordable price. There are various materials available for veneers to enhance your smile or as we say a camera-ready smile.
Here is the price list from where you can know the cost of veneers in Turkey. It shows how affordable the prices are in Turkiye compared to other countries in the world.
| | | | | |
| --- | --- | --- | --- | --- |
| Types of veneers | Price Range in Turkey | Price range in the UK | Price Range in Europe | Price Range in the USA |
| Composite Veneers  | $150 – $350 (per tooth) | $300 – $800 (per tooth) | $500 – $1000 (per tooth) | $800 – $1,500 (per tooth) |
| Porcelain Veneers | $150 – $500 (per tooth) | $800 – $1,500 (per tooth) | $800 – $2000 (per tooth) | $800 – $2000 (per tooth) |
| E-MAX veneers | $200 – $700 (per tooth) | $1000 – $2,500 (per tooth) | $1,200 – $3000 (per tooth) | $1,300 – $3,500 (per tooth) |
| Zirconium veneers  | $200 – $650 (per tooth) | $850 – $1,800 (per tooth) | $800 – $1,500 (per tooth) | $1,700 – $2,500 (per tooth) |
Note: The prices are subject to change based on exchange rate fluctuations. For more info about prices, get in touch with our team.
As per research, if you come to Turkey, your saving potential is around 50% to 70% compared to other countries. Thus, budgeting becomes a lot easier and you can also squeeze in leisure activities.
How much do veneers cost in Turkey? 
The table given above already shows you how much do veneers cost in Turkey. In comparison with other countries, you can see how affordable the prices are. Highly demanded porcelain veneers per tooth cost $150 to $350 whereas in the rest of Europe it starts from $500. In a nutshell, you pay half the amount for an expensive treatment like veneers in Turkey.
Why are veneers cheaper in Turkey?
There are multiple reasons why are veneers cheaper in Turkey. From high exchange rates to lower living costs to cheap labor, all contribute to it. Here are a few solid reasons why are veneers cheaper in Turkey:
Cheap living costs
High exchange rates
Low salaries

High Exchange Rates 
Another reason why Turkey porcelain veneers are cheaper is the high exchange rates here. The rising USD and depreciating Lira give higher buying power to foreigners. As a result, dental tourism is cheaper for someone coming from Europe, the USA, or the UK.
Low salaries
Veneers are much cheaper in Turkey because of cheap labor costs. In other countries, high labor costs contribute a lot to the high costs of dental treatment. Due to this factor, you will find dental and general medical treatments a lot cheaper in Turkey.
Is there a reduction in quality due to the price of veneers in Turkey?
A huge misconception about Turkey is that since prices are low, quality may not be up to the mark. What we can tell you is that it is not quite like that because Turkey's medical tourism is among the top ones in the world. Rest assured, there is no compromise on quality and the same top-notch products are used. In terms of technology as well, you can find all the latest and modern equipment.
Is there an all-inclusive package?
When traveling to Turkey for your dental travel experience you should never worry about anything. This is why most dental clinics offer All-Inclusive Packages. This way, you just have to worry about coming to Turkey and going back with your beautiful smile.
Usually, a Veneers Package includes:
Veneers Treatment
Transportation Hotel/Clinic/Airport
Hotel
Assistance Before and After
Personal Assistant/Translator
With all these things you should not worry about anything. All the transportation will be covered, you won't have to pick a hotel.
If you need more information about offers please visit veneers turkey packages page!
How can I pay for my treatment?
There are two ways you can pay for the treatment. We also assist if you need help with currency exchange. The two payment methods are:
Cash: We accept cash for payment in Turkish Liras, USD, Euros, or Pounds. This way you do not have to worry about currency exchange.
Credit/Debit Card: We accept payment via credit/debit card as well. For international cards, make sure you ask your bank for overseas payments.
Bank Transfer: If you prefer to pay in advance and never think about it after or you just don't want to bring cash around, this is the option for you. You can send a bank transfer to the clinic paying.
No, at Dentfix the prices agreed on during the initial are always the final price. There will be no additional costs except in case of medical emergencies requiring immediate intervention. This is very rare in the case of dental treatments. To avoid this scenario, please be honest with your consultant and the doctor. Any allergy (medicine or any other), previous conditions, or diseases should be disclosed to avoid problems or allergic reactions.
In any case, there are no hidden, unknown, secret, undeclared, or surprise costs. The prices established in the quote are offered to the patient before departure.
Is There A Warranty on Veneers?
We are so sure about the quality we offer, we are willing and happy to give you a 3 years warranty on veneers. For any fracture with normal use, we will replace or repair them at no additional charge. You just come back to us and we will handle the situation.
If you have any doubts about the warranty, please get in touch with us.
Are There Any Additional Costs After Applying The Veneers?
Even if the dental veneer procedure is permanent and irreversible, no immediate expenses are necessary. But it's strongly recommended that you have regular appointments with your dentist after the installation of veneers. This will help to maintain good oral hygiene, check the health of teeth and gums, clean the veneers and the normal teeth. Depending on the patient, a dental check-up is recommended every 6-12 months by your trusted dentist.
We will be happy to provide you with advice and all the necessary information on how to best take care of your veneers. So our customer service is always available for everyone, 24/7.
How to plan for your veneers and Turkey?
If you have made up your mind about getting veneers, now you must decide which ones you want. Our article about various types of veneers may help you pick one. Three factors are important while planning for your veneer treatment:
The material you want for your veneers: he material you choose for your veneers determines how long they can last. It also depends on your dental situation and which material can best resolve the issues.
What is your budget: the material you choose for your veneers determines how long they can last. It also depends on your dental situation and which material can best resolve the issues.
Number of veneers you want: part of planning for your veneers is to self-assess and decide how many veneers you want. It depends on the kind of issues you are facing and if you want to fix them with veneers. For example, if you have dark stains on your front teeth, you are a suitable candidate for veneers.
How to pick the right dental clinic in Istanbul?
Istanbul is the hub of medical tourism in Turkey and has many dental clinics. Thus, choosing a clinic can be a task before coming. Here are a few ways that you can try to pick the right dental clinic:
Check the reviews: If you are in the process of choosing a clinic in Turkey for veneers, the best way to start is to check online reviews. It can make you familiar with people's good or bad experiences.
Check the dentist's qualifications: This is the most important step because a dentist's qualification is crucial for cosmetic dental treatments. Check if they have a valid license for dental practice and the necessary qualification for cosmetic dentistry. 
Check the clinic's smile transformations: Take a peek into the clinic's photo galleries where you can see their work. It gives you an idea of the kind of work they do. It makes it easier for you to make your decision. You can check our photo gallery here to see the kind of work we do.
Go by references (if any): References always help when you are unable to decide. Word-of-mouth can make your research process a lot easier. You can pick a clinic that someone among your family or friends went to and was satisfied with.
Check team correspondence: When choosing a clinic, it is important to check how fast and cooperative is their staff. You must check if all your queries are being answered in an organized manner. Effective and timely correspondence will help you plan things better.
How Can I Book an Appointment For Veneers in Turkey?
Booking an appointment for veneers in Turkey is simple and fuss-free. You do not have to wait for weeks or months for getting an appointment. All you need to do is get in touch with the team of your clinic and they will take it from there. Before booking an appointment, the team may ask you (it's not always needed) for the following documents/reports:
A full mouth X-ray
Clear photographs of your teeth
Blood reports
After you send them these documents, they book an appointment for you right away.
How long do I have to stay there for veneers?
You may have to stay for 5 to 7 days for your custom-made veneers in Turkey. The whole process takes 2 to 3 appointments. 2 to 3 appointments. ​If you pick same-day veneers, you only need a couple of days.
Which airport should I fly to?
Istanbul has two functioning airports at the moment and you can choose either one.
Istanbul International Airport (IST): This is the newest airport in Istanbul and most international flights fly here. It is located on the European side and not very far from many of the best hotels and clinics in town. We recommend you choose an airport closer to your hotel so there are lesser chances of missing your flight.
Sabiha Gökçen Airport (SAW): This airport is the older one of the airports but is fully functional at the moment. It hosts hundreds of international flights every week. It is situated in the Asian part of the city and far from the old city (European part). This airport can be far from the city center, Taksim Square or Sisli.
It doesn't matter which airport you choose, we can pick you up just whenever you need us to. For more information, get in touch with us today!
What are the documents required to enter Turkey?
There are three types of documents you may need based on which country you're coming from:
E-visa
Stamped visa from the Turkish Consulate in your country
Valid passport or ID card
Visa on arrival
Here are the EU countries that do not need an official visa to enter Turkey and can enter simply by showing a valid ID card or passport:
France
Switzerland
The Netherlands
Italy
Portugal
Georgia
The Turkish Republic of Northern Cyprus
Luxembourg
Germany
Liechtenstein
Malta
If you are from a NON-EU country, you may need a stamped visa or an E-visa. You can find all the info you need on this website. You can also check which type of visa you need for entering Turkey HERE.
Which airlines fly to Turkey?
Istanbul is one of the world's biggest metropolitan cities so almost all airlines fly here. Turkish Airlines is Turkey's national airline and it offers direct flights from almost all destinations in the world. You can find plenty of options for direct and transit flights. If you do not like long-haul flights, we recommend you hop on to a direct flight to avoid excessive fatigue.
You can check flights from your location to Istanbul here
Can I bring someone with me?
You can of course but you will have to pay for them if they get a separate room. Dental tourism packages cover the expenses of one person only. If you're staying in the same room, you won't need to pay any extras. Any guest is always welcome!
Can they have some dental or aesthetic treatments too?
They can of course but they will be charged separately for them. Thus, if you are planning to bring them with you for treatment, a separate plan will be prepared for them.
Will I need to come back a second time?
No! You will only need to stay a week or so and never come back. You'll have two or three appointments during the same week for your veneers. But no other travels are needed.
How will I understand the doctor?
If you are concerned about the language barrier in Turkey, there is nothing to worry about. We are an international team with translators for almost all languages.
In case you need a translator, all you have to do is let us know and we'll make it happen for you. We have native translators for Italian, Spanish, German, Farsi, Arabic, Urdu, and many other languages.
Your stay in Istanbul for veneers: what should you know? 
So, it's time for you to come to Istanbul. From traveling around, to reaching the other and the clinics you may have a million questions.
No need to worry! Between this part of the guide, the transportation service and our teams, you will have nothing to worry about. We also added a few extra tips (some of them very yummy) for your vacation in Istanbul.
Let's start!
How will I reach the hotel?
You have nothing to worry about! Our clinic offers pick-and-drop services whenever needed, provided you tell us in advance.
Our transport service will pick you up from the airport and take you to your hotel. We also do not charge extra for transport services, it is a complimentary service included in our veneers package.
How can I visit the city?
The best way to travel within the city is by Istanbul's massive public transport. There are various means of transport such as buses, subways, ferries, funiculars, etc. You can access the transport with a local transport card called Istanbulkart. The card costs just 3 Euros and with it you can use all modes of transport at discounted rates. There are maps available everywhere across the city which can help you with directions and how to use the transport service.
If you are not much of a walker, you can also use rentable electric scooters available everywhere in the city.
What to visit in Istanbul?
Istanbul is a great place for history buffs around the world. Some of its historical monuments and landmarks are also part of UNESCO's World Heritage. If you are visiting this vibrant city, here are the tourist sites you cannot miss:
Blue Mosque
Hagia Sophia
Basilica of Sant'Antonio di Padova
Topkapı Palace
Dolmabahçe sarayı
Sulemaniye Mosque
Çamlıca Mosque
The Maiden's Tower (Kız Kulesi)
The Bosphorus
The Princes' Islands
Galata Tower
Basilica Cistern
What can I eat when I'm there?
Turkey is a hub of flavors coming from the Ottoman Era and other parts of the Middle East. It is famous for its appetizing and rich meat dishes and irresistible desserts. Here are must-have breakfast, lunch, and dinner items you must try when you visit Istanbul:
For Breakfast:
Menemen (tomato and eggs)
Sucuklu Yumurta (eggs with sausage)
Simit bread
Börek 
Açma bread
Pide
Pişi 
Gözleme
Poğaça
For lunch:
Iskender kebap
Durum
Doner
Mercimek çorbası
Lahmacun (Turkish style pizza)
For dinner:
Adana kebap
Yaprak dolma
Manti
Can kebap
Inegol Kofte
Kuzu Tandir (Roasted Lamb)
Hamsili Pilav (fish rice)
Tantuni (meat wraps)
For dessert:
Baklava 
Soguk Baklava (cold baklava)
Kunefe
Kadayif
Sütlaç
Tulumba
Lokma
Famous hot drinks:
Turkish coffee
Salep
Turkish tea 
What if I'm vegan or vegetarian?
There are plenty of food options available for vegans and vegetarians in Istanbul. Here are the best foods for vegans/vegetarians available in eateries everywhere in Istanbul:
Vegan options:
Nohut pilav (chickpea rice)
Mercimek soup and kofte (lentil meatballs)
Dolma
Eggplant salads
Bulgur Pilav
Cig Kofte
Vegetarian options:
Nohut pilav (chickpea pilav)
Mercimek soup and kofte 
Eggplant yogurt salad 
Bulgur pilav
Cig Kofte 
What are the best malls for shopping?
Istanbul offers a lot in terms of leisure activities including shopping. There are malls in various areas around the city including the city centers. Here are the best malls and shopping streets you can go to in Istanbul for branded and non-branded shopping:
Istiklal Caddesi
Akasya Mall
Istinye Park Mall
Cevahir Mall
Hilltown Mall
Emaar Square Mall
Zorlu Center
Kanyon Mall
Vadi Istanbul 
Mall of Istanbul
Do I need to wear a veil or hijab in Istanbul?
This is a huge misconception. Although Turkey is a Muslim country, it is also a secular country where there's freedom of choice. Women are not forced to cover their heads and can dress the way they want. Thus, there's no such rule as covering your head in Turkey.
REFERENCES:
Search train times in Europe. (n.d.). Retrieved November 5, 2022, from https://www.interrail.eu/en/plan-your-trip/interrail-timetable#/
Do I need a visa for Turkey? – countries exempt from a Turkish visa. VisaGuideWorld. (n.d.). Retrieved November 5, 2022, from https://visaguide.world/europe/turkey-visa/who-needs-turkey-visa/
Visa information for Foreigners / Republic of Türkiye Ministry of Foreign Affairs. (n.d.). Retrieved November 5, 2022, from https://www.mfa.gov.tr/visa-information-for-foreigners.en.mfa
Howtoistanbul. (n.d.). Tourism Police & Tourist Info. howtoistanbul.com. Retrieved November 5, 2022, from http://howtoistanbul.com/en/tourism-police-tourist-info/3597