Chapter 6
Congratulations, you made it to the final chapter of our journey into The Comprehensive Veneers guide! In this last part, after talking about veneers and their many characteristics like types, risk, procedure, and price, we will now discuss the subject of Veneers in Turkey. Veneers in Turkey are among the most requested aesthetic dental treatments for patients coming from all over the world. The dental veneer treatment is an aesthetic treatment. It's for people who want to get a brand new smile. A bright smile with a perfect aesthetic appearance, and correct aesthetic problems like a crooked tooth without long treatments and invasive surgeries. Turkey and Istanbul offer patients very high-quality treatments, the best dental technology with highly qualified doctors, at an affordable price without long waiting lists.
We will go through now every detail of veneers in Turkey and your stay in Istanbul.
What Is There To Know About Veneers in Turkey? 
The dental veneer treatment is an aesthetic treatment. Veneers in Turkey don't differ from any other place in the world. It follows the same steps and uses the same materials. So why Veneers in Turkey? Patients pick Turkey mainly for the affordable price of veneers but also for the high quality of the treatments compared to other countries. In Turkey, veneers are highly requested and only require two dentist appointments and less than a week.
Even with the cheaper price, there's no compromise in the quality. This is why, yearly, thousands of patients travel to Turkey. They arrive with dental problems and leave with a bright and perfect smile.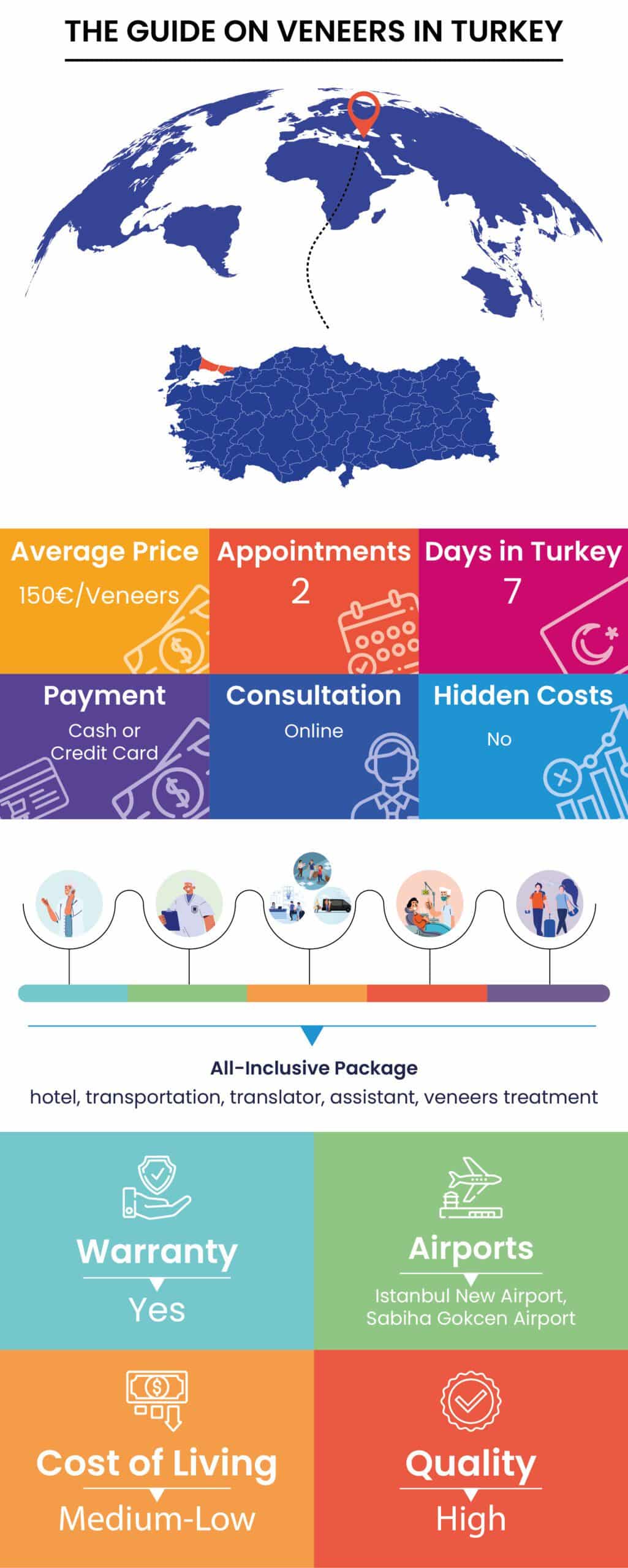 Why Choose Veneers in Istanbul? 
Turkey is one of the most visited destinations for international patients traveling for medical reasons and turning to the private health sector Turkey offers. Part of this flourishing sector is the dental sector with its dental centers. Thanks to astonishing results, experienced dentists and the word of mouth of patients, or simply an internet search, more and more people travel to Turkey for different dental procedures and aesthetic treatments with a very high rate of satisfaction and natural appearance leading to ever higher numbers of patients in the future.
But traveling to Istanbul and any other country other than your own can often frightening, lead to doubts and uncertainties. But why are more and more people choosing veneers in Turkey? Here's why:
Dentists in Turkey have a great experience thanks to the high number of patients coming to their dental clinics yearly;
The cost of dental veneers is affordable and convenient, without ever compromising the quality of materials and services;
You can book an appointment quickly without long waiting periods;
With the same budget— or less — you could get higher quality treatments compared to your country;
You'll be able to visit Istanbul, combining dental care with an unforgettable holiday;
How To Choose The Right Clinic in Istanbul? 
Turkey is the ideal destination for dental tourism and for those who want to get a perfect smile, a high quality of services at affordable and reasonable prices. A lot of patients come from European Countries, America, Canada, and the Middle East for dental veneers treatment and to better the aesthetic appearance of their natural smile. However, not all clinics offer the same quality of treatments, so it's important to find the right clinic for you, your needs, and your safety.
How can you choose the right dental office in Istanbul? Here are some tips:
Pick clinics with a modern, clean environment, with modern technologies largely and carefully designed for patient's comfort spaces;
Pick a clinic that organizes every single step of the trip, treatment, accommodation, and any visits to the city.
Ask the clinics how many years they have been open and the experienced dentist;
Make sure the clinic has a personal assistant who can translate from Turkish;
Pick the right veneers type for your needs and desires; (Read Chapter 2 for Veneers Types)
Pick a clinic with pricing that fits the national average, don't go for the lowest prices or you may have some problems or an unfit treatment.
Look for a clinic able to answer any doubts, listen to your needs and take care of your entire journey, including before and after treatment.
Make sure the overall veneers cost does not hide hidden costs or other expenses.
Make sure the clinic has a transportation service that covers everything from airport transportation to the clinic and hotel.
How Long Will I Have to Stay in Turkey for Veneers? 
The whole process of dental veneers in Turkey takes 5 to 7 days for you to go through all steps and get your new beautiful smile. Installing veneers only requires two appointments with your dentist. You will be free to enjoy your vacations all the time you won't be at the Dental Clinic and fully enjoy the wonders of Turkey.
How Can I Book an Appointment For Veneers in Turkey? 
Booking an appointment to get veneers in Turkey with Dentfix is extremely easy. When you get in touch with us, we'll ask you about your medical history, your habits, your oral care, your oral hygiene, and photos of your normal teeth. Depending on the treatment required, we may require x-rays. In a few hours, our dentist will analyze your case and create a treatment plan with dental services suited to your needs and your medical and aesthetic needs. We will pick the best restorative dentistry option for you. We will organize your entire journey, your veneers in Turkey, accommodation, airport transfers, and transport in Istanbul. This, to ensure you have a happy, comfortable time and a perfect smile. It will be possible to book the treatment of the veneers when you want and without long waiting lists. We will explain to you the benefits and the side effects of veneers. Veneers can be used on multiple or single teeth, depending on the situation and need of your real teeth.
Why Do People Talk About "Turkey Veneers Gone Wrong"? 
It seems that one of the most interesting and discussed topics when it comes to medical tourism, especially in Turkey, is the "danger" of going to Turkey for a medical procedure. European and American clinics speak extensively of these alleged risks, of potential plots to ruin the patient's health, and of "too cheap" prices surely hide something scary and dangerous. The cost of living in Turkey is clearly forgotten when speaking about these matters. Medical tourism clinics, perceived as affordable for international patients, are not as cheap and affordable for Turkish people who do not have the great advantage of exchanging currencies such as euros, dollars, or pounds. They also forget to look at great patient results just to highlight one or two examples of negative results – often without proving or disclosing where these photos of results really come from. Furthermore, these accusations against Turkish clinics hide a – not too veiled – racist prejudice towards non-European countries as unsafe, full of impostors, backward. For years, Turkey has been at the forefront of the medical sector with modern, clean, safe medical centers equipped with cutting-edge technologies. So when you see some "Turkey veneers gone wrong" article think "who's really benefitting from these kinds of negative ideas?".
How Much Do Veneers Cost in Turkey?
"How much do veneers cost in Turkey?"
 is the first question people ask when considering getting veneers in Turkey. Veneers in Turkey cost considerably less and this has always been a great advantage for international patients who turn to medical tourism and to a dental clinic in Turkey. The affordable price in Turkey is often two to three times lower than prices in America, the UK, or Europe. This allows a growing number of patients to afford high-quality dental veneers treatment and dental care without having to spend exorbitant amounts of money or avoid treatments due to prohibitive costs. The cost of living, the currency exchange, and large investments that Turkey has made to implement and help the private healthcare sector allow for the 
incredible value for money
 and the cost of dental veneers in Turkey, 
without compromising on the quality
 in any way.
How much do dental veneers cost? The average veneers cost is:
| | | | | |
| --- | --- | --- | --- | --- |
| Types Of Veneers | Price Range in Turkey | Price Range in the UK | Price Range in Europe | Price Range in America |
| Composite Veneer | € 100 – € 200 | £ 480 – £ 900 | € 450 – € 850 | $ 400 – $ 1500 |
| Porcelain Veneers | € 130 – € 250 | £ 600  – £ 1200 | € 550 – € 1100 | $ 800 – $ 2300 |
| E-Max Veneer | € 180 – € 300 | £ 750 – £ 1400 | 700 € – 1300 € | $ 900 – $ 2500 |
The prices for veneers reported concern a single veneer price and the same brands and type of veneers. These are average prices and may vary.
In this table, it is possible to see the extreme differences in the price of the same treatments of dental veneers. The treatments are the same types of veneers of the same quality, the only differences are the locations and the prices. Why so much difference? In the next paragraph, you will find the explanation. Why Turkey is one of the cheapest countries with the highest quality.
Why Are Veneers Cheaper In Turkey?
The first thought of those who have never turned to Turkey for medical treatments and want healthy teeth is: 
why are dental veneers so affordable in Turkey
? What does such a low price hide? Scepticism and doubts are understandable, those who have already turned to the Turkish private national health system in the past know perfectly well its qualities, merits, and cutting-edge technologies offered. 
This includes excellence in dentistry
. The main reasons are:
The Turkish Lira: The Turkish Lira, the currency of Turkey, has a much lower value than the Euro, Dollar or Pound. This means that it allows those with strong currencies to obtain extremely affordable prices thanks to the exchange.
The Cost of Living: The cost of living in Turkey, due to the low value of the local currency, is extremely low compared to other European countries, America, Canada, UK, etc. This factor contributes to the final price of the service. Thanks to a lower cost of labor, lower cost of materials, structures and even the most advanced technologies.
State Incentives: Turkey has always recognized the high potential of medical tourism and has therefore invested in the development and the quality of this sector. This is why excellence in dentistry can be achieved. Part of these investments include loans, tax reduction, monetary aids, facilitating the hiring of international staff, etc.
The High Competition: the competition always keeps prices lower! Thanks to the number of foreign patients and the number of medical dental tourism clinics it is possible to maintain competitive prices.
Accessible Prices of Materials: thanks to all the reasons listed above, it is easier for the dentist to obtain the highest quality materials and the best brands for the dental practice at much more competitive starting prices.
Is There a Reduction In Quality Due To The Price of The Veneers?
No, thanks to all the reasons listed above. 
The cost of dental veneers in Turkey doesn't lead to a reduction in the quality of materials, services, less experienced dentists.
 The quality remains very high while the price will be extremely affordable. The materials used, the medical devices, the dental veneers are the same you'd find in Europe, America, Canada, UK, etc. We can provide real patient reviews so you can understand the treatment offered.
If case of any doubts about materials, services, equipment, medical facilities, our team will be happy to answer your questions. We are always happy to help patients consciously choose the path that best suits their needs. 
Dentfix uses E-Max veneers
. 
T
hey're
 the best for quality, durability, materials, and strength and the most requested and appreciated by real patient reviews.  During the consultation for veneers, we will go over all the details with you.


Is there an all-inclusive package?
When traveling to Turkey for your dental travel experience you should never worry about anything. This is why most dental clinics offer All-Inclusive Packages. This way, you just have to worry about coming to Turkey and going back with your beautiful smile.
Usually, a Veneers Package includes:
Veneers Treatment
Transportation Hotel/Clinic/Airport
Hotel
Assistance Before and After
Personal Assistant/Translator
With all these things you should not worry about anything. All the transportation will be covered, you won't have to pick a hotel.
If you need more information about offers please visit veneers turkey packages page!
How Can I Pay For My Treatment?
So many patients wonder how it is possible to pay for the veneers treatment in Turkey. You have two options:
Cash: We accept cash payment. You can pay easily with dollar, euro, or pound.
Credit Card: if you don't want to travel with cash, you can pay with a credit card. But, before you get to Turkey, ask your bank if you can pay in Turkey with your credit card, if there is a limit and if there will be a commission.
These are the safer, easier payment methods we accept.
No, at Dentfix the prices agreed on during the initial are always the final price. There will be no additional costs except in case of medical emergencies requiring immediate intervention. This is very rare in the case of dental treatments. To avoid this scenario, please be honest with your consultant and the doctor. Any allergy (medicine or any other), previous conditions, or diseases should be disclosed to avoid problems or allergic reactions.
If THE dentist during the visit will deem necessary additional treatments for the benefit of the patient's oral health and aesthetics, the patient will be free to choose whether or not to undergo any additional treatment. The patient will be provided with an extra quote and the option to accept or not.
In any case, there are no hidden, unknown, secret, undeclared, or surprise costs. The prices established in the quote are offered to the patient before departure.
Is There A Warranty on Veneers?
We are so sure about the quality we offer, we are willing and happy to give you a 3 years warranty on veneers. For any fracture with normal use, we will replace or repair them at no additional charge. You just come back to us and we will handle the situation.
If you have any doubts about the warranty, please get in touch with us.
Are There Any Additional Costs After Applying The Veneers?
Even if the dental veneer procedure is permanent and irreversible, no immediate expenses are necessary. But it's strongly recommended that you have regular appointments with your dentist after the installation of veneers. This will help to maintain good oral hygiene, check the health of teeth and gums, clean the veneers and the normal teeth. Depending on the patient, a dental check-up is recommended every 6-12 months by your trusted dentist.
When wondering how much do veneers cost in Turkey, you need to know you should replace them after 15-20 years. Cheapest materials may require a change after 5-10 years depending on the type of veneers. It may also be necessary to replace them before this time. If they're not cared for correctly or if you're not following the advice of the dentist or good oral hygiene.
We will be happy to provide you with advice and all the necessary information on how to best take care of your veneers. So our customer service is always available for everyone, 24/7.
Your Stay In Istanbul: What You Need To Know
Istanbul is the main destination when travelling to get veneers in Turkey. Many patients choose Istanbul to mix dental treatment with a vacation. The monuments, the streets, the museums, and beauties that can be visited in Istanbul are many and patients will taste the delights of Turkish cuisine. The more organized patients will ask themselves what the regulations to prevent COVID-19 are or how much will have to be spent during the days spent in Istanbul. Having an overview before departure is very important and ensures fewer doubts and less stress.
In this part of the article, we will answer your questions about travelling to Istanbul.
Which Airport Should I Fly To?
The first step of your veneers in Turkey is the flight. It's the only part you will do by yourself without us being with you.
When it comes to the airport you should pick one of the two Istanbul Airports:
ISTANBUL NEW AIRPORT (IST): it's the new and main airport in Istanbul. It's in the European side of the city.
SABIHA GOKCEN AIRPORT (SAW): it's smaller but still handles so many flights daily coming from every part of the world. It's in the Asian side of the city.
It doesn't matter if you pick one or the other airport, we will be there to pick you up!
What Are The Measures Against COVID-19 In Turkey?
Turkey continues prevention and measures against covid-19. For this reason, it is still mandatory to use surgical masks outdoors and indoors. Outdoor and indoor safety distance measures are still in effect. A negative PCR test may also be required prior to arrival in Turkey.
You will need a HES Code, an identification code, to reduce and track the risk and cases of positivity to the virus. This code will be required to enter shopping malls, public transport, and other indoor locations. It will be possible to get this code via SMS procedures.
Our assistants will be happy to help you and provide all the information you need for your stay in Istanbul.
What Can You Visit In Istanbul?
Istanbul is among the most popular destinations among tourists for its beauty with a thousand influences, centuries-old history, and unforgettable landscapes. The most loved destinations are:
Blue Mosque
Topkapi palace,
Walls of Constantinople,
Galata Tower,
Bosphorus,
Sulaymaniyah Mosque,
Dolmabahçe Mosque,
Hagia Sophia Mosque,
Church of Santa Maria Draperies,
Basilica of Sant'Antonio di Padova,
Palace of Dolmabahçe
the seaside overlooking the breathtaking Bosphorus.